Welcome to Armenian software testing qualifications board
Armenian National board of ISTQB
ISTQB EXAMS
Dates for 2021: October 02, December 18   
11:00 AM  Armenia Standard Time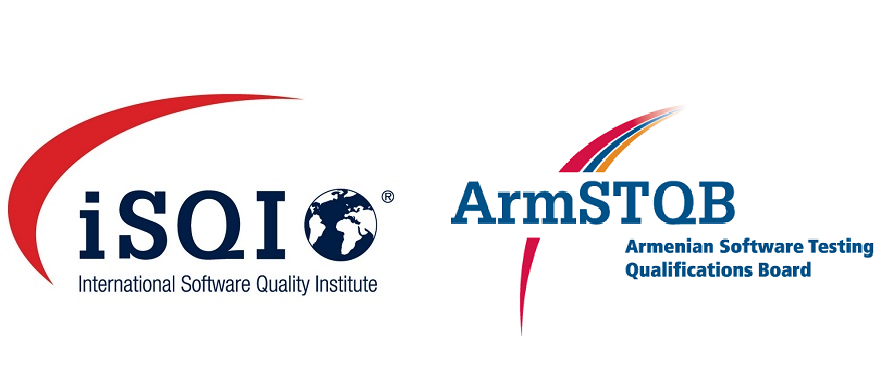 The International Software Quality Institute (iSQI) Group, with offices in Potsdam (Germany), Gorinchem (The Netherlands), London (UK) and Boston (USA), is a leading provider of certification examinations all over the world.
As a result of the agreement in Armenia now available 2 paper based exams from ISTQB Advanced Level Portfolio - ISTQB Advanced Level Security Tester and ISTQB Advanced Level Test Automation Engineer. This is very important cooperation for us and very soon it will give its benefits for IT professionals in Armenia. 
Very soon in Armenia will be available more exams from iSQI portfolio. 
You can find more info about iSQI by following the link - https://isqi.org/ua/en/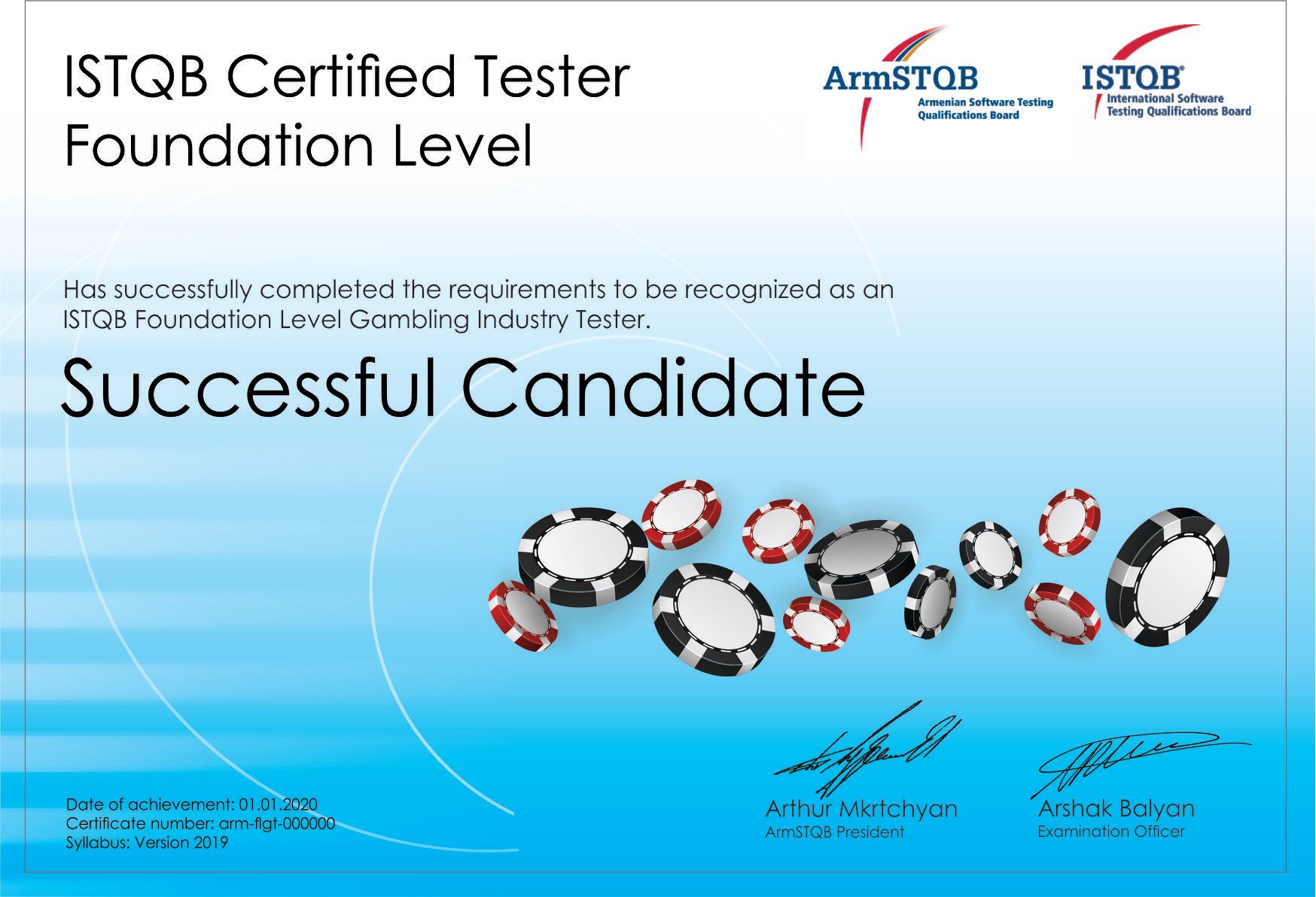 Foundation Level Gambling Industry Tester
The Foundation Level Gambling Industry Tester Specialist Certificate qualification is aimed at four main groups of professionals:
Professionals who have achieved in-depth testing experience in traditional methods and would like to get a Foundation Level Gambling Industry Tester Specialist Certificate.
Junior professional testers who are just starting in the testing profession, have received the Foundation Level certificate, and would like to know more about the tester's role in a Gambling Industry Environment.
Professionals who are relatively new in testing and are required to implement test approaches, methods and techniques in their dayly job in Gambling Industry projects. These professionals include people who are in roles such as testers, test analysts, test engineers, test consultants, test managers, user acceptance testers, and software developers.
This Foundation Level Gambling Industry Tester Specialist certification may also be appropriate for anyone who wants a deeper understanding of software testing in the gambling industry, such as project managers, quality managers, software development managers, business analysts, IT directors, and management consultants.
Successful Candidate Register 

ISTQB Successful Candidate Register
To verify a certificate use the search function below. Certificate holders meeting the search criteria will be listed with an anonymized certificate number meaning some digits are replaced by ***. This feature allows ISTQB® to protect the certificate number from being misused but gives enough information to verify a certificate number that an individual has provided.
You can find your certification link via following link - http://scr.istqb.org/
Number of exams administered: 920,000+

Number of certifications issued: 673,000

Growth in 2018H1 wrt 2019H1 has been in excess of 4%

Worldwide geographic coverage thanks to e-exams administered by Global Exam Providers

Number of countries in which ISTQB® certification activities have taken place:110+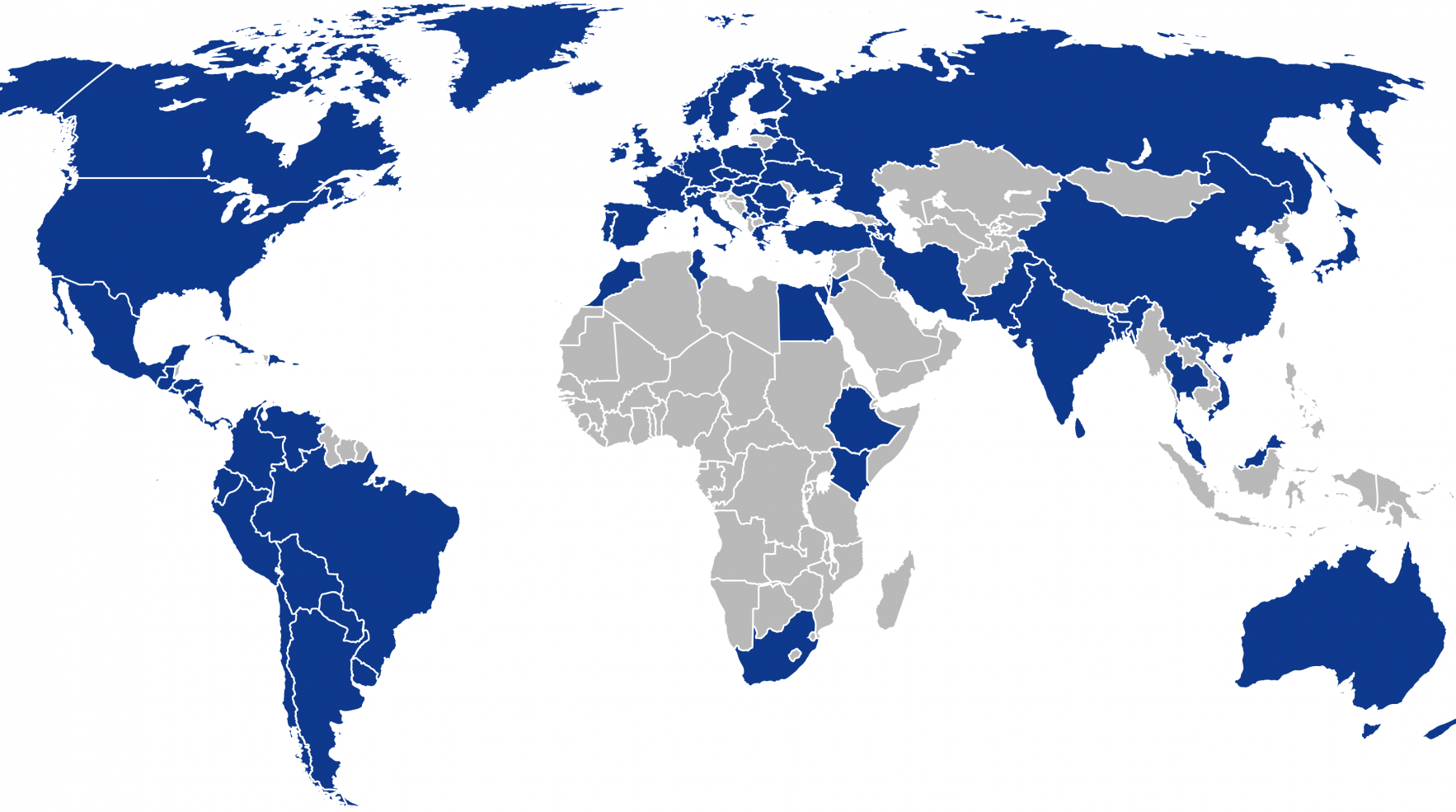 Facts & Figures About ISTQB
ISTQB® is the de facto standard in the certification of software testing competences, as marked by the following figures, updated as of June 2016:
Address: Yerevan, Armenia
+374 55 342050   ||   +374 94 310033